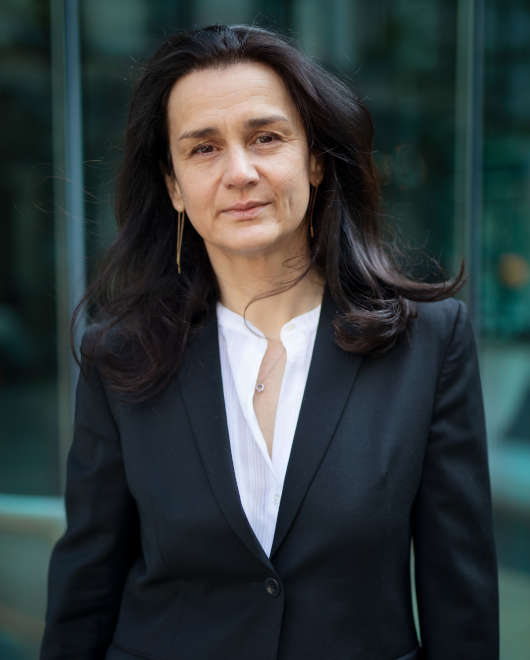 Juliette
Pouyet
Avocate Associée
Inscrite au Barreau de Paris depuis 1997
Juliette assiste une clientèle composée de sociétés françaises et internationales sur toutes les questions relatives au droit social, avec l'objectif d'avoir une vision globale et transverse des thématiques régissant les relations de travail, en droit du travail et en droit de la sécurité sociale.
Elle a également une solide expérience dans l'accompagnement des sociétés en matière de restructurations, réorganisations, de plans de sauvegarde de l'emploi et nouveaux dispositifs de gestion de l'emploi.
Juliette a en outre développé une expertise de premier plan en droit de la sécurité sociale.
Après avoir débuté sa carrière au sein du cabinet Fromont Briens & Associés, Juliette a rejoint le cabinet Chassany Watrelot & Associés dont elle était associée depuis 2002, avant de créer MAJJ Avocats en 2021.
Juliette est référencée dans l'édition 2019 de The Legal 500 EMEA qui souligne l'excellence de sa pratique. Elle a continué d'être recommandée par The Legal 500 EMEA dans ses éditions 2020, 2021 et 2022.
Les classements Option Finance citent régulièrement Juliette parmi les meilleurs avocats en plans de sauvegarde de l'emploi et restructurations. Elle est également référencée dans le classement de la dernière édition de Best Lawyers (dans les catégories Labour and employment law et Employee benefits law).
Cursus académique
– DEA de Droit privé, Université de Paris I Panthéon Sorbonne
– Maîtrise de Droit privé, Université de Grenoble
LANGUES PARLÉES
Français, Anglais
CONTACT
+33 (0)1 89 16 53 53
juliette.pouyet[@]majj-avocats.com